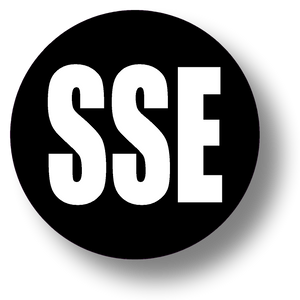 Short Service Employee (SSE) Hard Hat Sticker - White Text on Black Background - 2 inch diameter
A common color combination of SSE Stickers, placed on hard hats, safety vests, or other clothing that prominently identifies the employee as a SSE employee.
For example, if a hardhat decal is used, it should be placed on each side of the hardhat with a label under the decal indicating the date when the employee is no longer considered to be a Short Service Employee.  If placing the decal on a safety vest, there should be one visible on the front as well as one visible on the back of the safety vest.
Sold in packs of 5, 10, 25, 50, and 100, free shipping is included with all orders!
This sticker is 2 Inches in diameter and DOES NOT spell out Short Service Employee!  
The product image is what the SSE sticker will look like in terms of lettering and wording.
These Short Service Employee Hard Hat Stickers are sold in a pack of 5 stickers minimum.
These SSE stickers/decals are made with premium Oracal Outdoor Grade Vinyl.
Adhesive – Solvent based permanent

Indoor durability – 10 years +

Outdoor Durability – 6 years +

Thickness – 2.5 mils

Waterproof – Yes
---
We Also Recommend
---